When several people work with the same system, it might lead to variations in data. Startups and small businesses often get confused when there is an inflow of data.
CRMs are designed with features to help the business scale quickly. CRM provides an insight to recognize customers, their needs, and a well-rounded view of how your business can work for them. 

Most of CRM systems are moving to the cloud, so the user just to need purchase CRM software on a subscription, customize it and not worry about the costs of server management. Most CRM systems are available on mobile apps. Variety applications like live chat software, marketing automation tools can integrate with CRM tool.  
Here are the 10 best CRM software for startups & small businesses-

Zoho is one of the best CRM software for startups & small businesses. It comes free of cost, and you can upgrade to paid plans for premium features. 

Zoho CRM allows users to effectively coordinate prospect information and opens communication lines across the sales department and offers more in marketing features to track visitors, lead scoring, sales signals.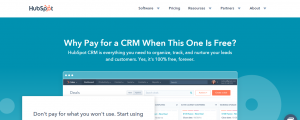 HubSpot offers a completely free version of its CRM software. This CRM allows the user to track the company's activities, contacts and company profile. 

It provides easy managing all of that the data from the dashboard and enables users to create and manage email templates and track how well those emails are performing. HubSpot also comes with the funnels mappings, pipelines, task, company information and many more.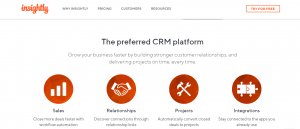 Insightly is a cloud-based CRM software and most demanding choice among smaller businesses. It offers a great categorization and filtering of data and customizable reporting. 

It can easily integrate with other leading business systems such as Gmail, Outlook,  Evernote, Office, and MailChimp. The user can check other relevant data related to their opportunities and projects such as email history, background, and important dates.  Insightly CRM tool can be accessed on other platforms also such as Android, iOS.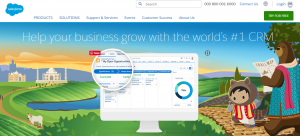 SalesForce is one of the biggest and most widely used CRM software by the small, mid-size and enterprise organizations on the market. It has capabilities that include sales management, marketing automation, partner relationship management and customer service. 

It helps the business owner to forecast sales, define workflow and approvals. Allows the user to track all customer details in one place so they can generate more leads.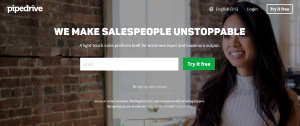 Pipedrive is well known for being a simple, clean CRM and ideal for companies that do international business as it is available in a range of major and minor currencies. 

The pipeline management solution that enables businesses to plan their sales activities and monitor deals. A robust interface displays the progress stages for each deal with the complete details for the next actionable items.
It can be accessed 24×7 from anywhere, using any web browser or dedicated mobile apps and integrates with multiple email service providers including Outlook, Gmail and Yahoo.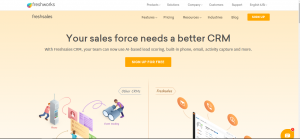 Freshsales CRM provides AI-based lead scoring and features like one-click phone, sales lead tracking, sales management. Freshsales tracks the web pages that prospects are interacting with and then segments contacts based on their behaviour. 

It has ways to manage your leads, from ranking them by importance to assigning them to your salespeople to scheduling follow-ups. The platform not only captures leads but also helps the user to verify, distribute, using multiple communication channels.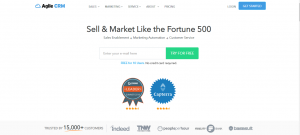 Agile CRM offers its free version for 10 users, however, is quite limited in terms of features. The enterprise version of Agile CRM provides advanced features and helps you to message consistently and make the most of its modern features, integration, and easy implementation. 

Users can track website visitors to analyze customer behaviour and providing them deals & offers according to their needs. It allows social media integrations to publish and respond to posts on social channels.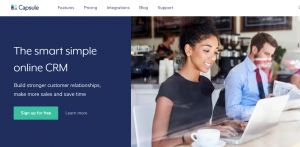 Capsule CRM started in 2008, it has become popular in the last few years. Its CRM software gives a complete view of your business and helps you keep your sales pipeline extremely organized. 

Capsule offers many customization options to help tailor the system to meet the needs of different businesses. Manage all your business contacts in one place manage contacts, leads, vendors and more.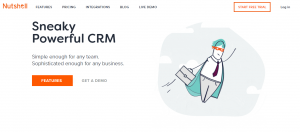 The Nutshell CRM is a user-friendly platform and provides an attractive dashboard where you can view contact history, upcoming tasks and meetings, and activities. Nutshell CRM offers sales process and collaboration tools, email sync with Gmail and Outlook. 

It is also available for iPhone and Android applications with real-time synchronization across all devices. This CRM helps the sales team to set and track appointments, setting quick follow-ups, and reporting results.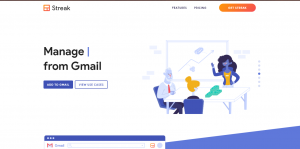 Streak is a great CRM tool, comes with mail merge for bulk mailing. It can directly integrate with Gmail so user don't have to keep switching back and forth between different external tools
It helps the organization to manage their email communications with prospects, get a more clear (visual) pipeline view for where your leads are within the sales process, and communicate more effectively.
But still, the life of a startup can be challenging, they have to differentiate themselves from the competition and find the technology that allows them to do more with less.
We have helped many startups and businesses to grow and overcome the challenges, starting from scratch with a completely new through the process of using technology as a force multiplier to build a new product. For more information check out our portfolio.